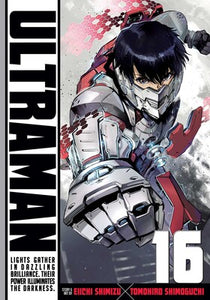 It's time for a new generation of Ultraman!
Decades ago, a being known as the Giant of Light joined together with Shin Hayata of the Science Special Search Party to save Earth from an invasion of terrifying monsters called Kaiju. Now, many years later, those dark days are fading into memory, and the world is at peace. But in the shadows a new threat is growing, a danger that can only be faced by a new kind of hero—a new kind of Ultraman…
The stunning revelation that Edo is the supreme chancellor of the Star Cluster Council stops the scheming Mephisto in his tracks, and he doesn't hesitate to save his own skin. Now that the real Ultramen have shown up, Mephisto's Ultramen imposters who are wrecking the city are about to get a hard lesson in why you don't mess with the defenders of Earth!