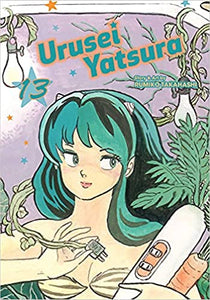 The hilarious manga classic featuring beautiful space alien princess Lum!
Beautiful space alien princess Lum invades Earth on her UFO, and unlucky Ataru Moroboshi's world gets turned upside down! Will Lum become Earth's electrifying new leader? Or will Ataru somehow miraculously save Earth from space alien onslaught?
Lum cultivates a dreamberry that will allow her to bring her dearest dreams to fruition. But Sakura mistakes it for a sleeping pill and finds herself stuck in a three-day nightmare with Lum's idea of true romance! Later, Benten and Ryunosuke go head-to-head in a battle to see which one is the girliest! When fists can't settle the score, they turn to feminine charm!