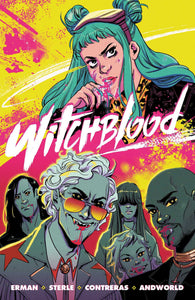 A non-stop supernatural action adventure bathed in magic, blood, motorcycles, mayhem, vampires, and an unconventional, 1,000 year-old witch named Yonna.
MAGIC IS IN THE BLOOD
A modern, Wild West road trip about a witch named Yonna cruising the Southwest as a band of bloodthirsty biker vampires, The Hounds of Love, hunt her scattered coven for the source of all magic: witch blood. From the critically acclaimed creators of The Modern Witch Tarot Deck and LongLost comes Witchblood: The Hounds of Love, a blend of action, lore, and Americana--perfect for fans of Buffy: The Vampire Slayer and Neil Gaiman's American Gods.
"...it's addictive reading." - Publishers Weekly