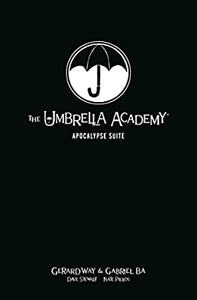 In an inexplicable worldwide event, forty-three extraordinary children were spontaneously born by women whod previously shown no signs of pregnancy. Millionaire inventor Reginald Hargreeves adopted seven of the children; when asked why, his only explanation was, ''To save the world.''
These children form a dysfunctional family with bizarre superpowers. Nearly a decade after their first mission, the team disbands, but when Hargreeves unexpectedly dies, the siblings reunite just in time to save the world once again.
This oversized hardcover reprints the 2008 limited edition collection of the complete first series, with the short stories ''Mon Dieu!'' and ''But the Past Aint Through with You,'' as well as an expanded 50-page sketchbook section.